Kailua Kona has a number of beautiful trails and parks that captivate even the most experienced hiker. Aside from its ancient culture, relaxing beaches, and volcanic appeal, Hawaii is also one of the best places to hike. Enjoy spectacular views of the sunrise or sunset along some of the Island's most scenic trails.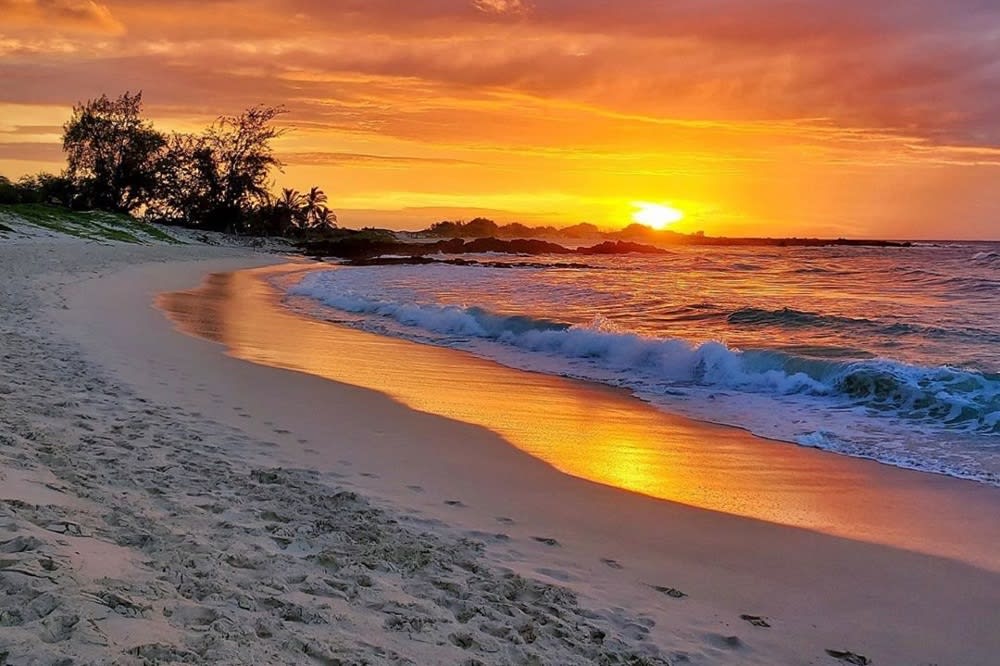 Photo courtesy of Makalawena Beach

Like anything worthwhile, this secluded, white sand beach makes you work a little bit to enjoy it. Broken up by rocky lumps of lava, Makalawena Beach is a remote cove with tranquil waters and two natural lava pools. It's also a great spot to visit for birdwatchers.

Located just 15 minutes north of Kailua Kona, Makalawena might be the best-secluded beach on the island. It can't be reached by roads so you'll have to trek it up the trail to access its white sands, but the beach's palm trees will provide you with plenty of shade to cool down.

Swimming in Makalawena's crystal clear ocean is safe, as long as the waters are calm. There are also several bays scooped out of the Kona Coast for visitors to explore. ʻŌpaeʻula Pond lies right behind the beach and encompasses 12 acres of National Natural Landmark dedicated to nesting and breeding areas for native Hawaiian birds.
Locals will tell you that one of the best ways to experience the island's lush landscapes is to go hiking. And while there are several popular hiking trails scattered throughout the Big Island of Kona, the Maka'eo walking path has its own enchantment. Few outsiders know of the walking path, so it's likely you won't run into many tourists while exploring.

Located within the Old Kona Airport State Recreation Area, the Maka'eo trail has a plethora of vibrant tropical flora that's sure to delight your senses. It's the perfect place to go for a relaxing walk with your significant other, or a light jog with a friend.

The one-mile-long trail is surrounded by a sea of drought-tolerant plants, art objects, and small anchialine ponds. Although it won't take you long to make it to the other end, it'll be hard to avoid taking pictures of the lively, colorful native plants on display at every turn.
Easily seen from Hwy 19, Pu'u Ku'ili's old cinder cone is a notable landmark north of Kailua Kona. Pu'u Ku'ili is much higher than the land around it, so it gives hikers a commanding view of the Kona-Kohala Coast and Kekaha Kai State Park.

Sunrises and sunsets on Pu'u Ku'ili are unlike any other. You can reach its peak from either the North or the South with minimal effort. If you're looking for longer hikes, Kekaha Kai State Park is nearby and will satiate your need for a challenge.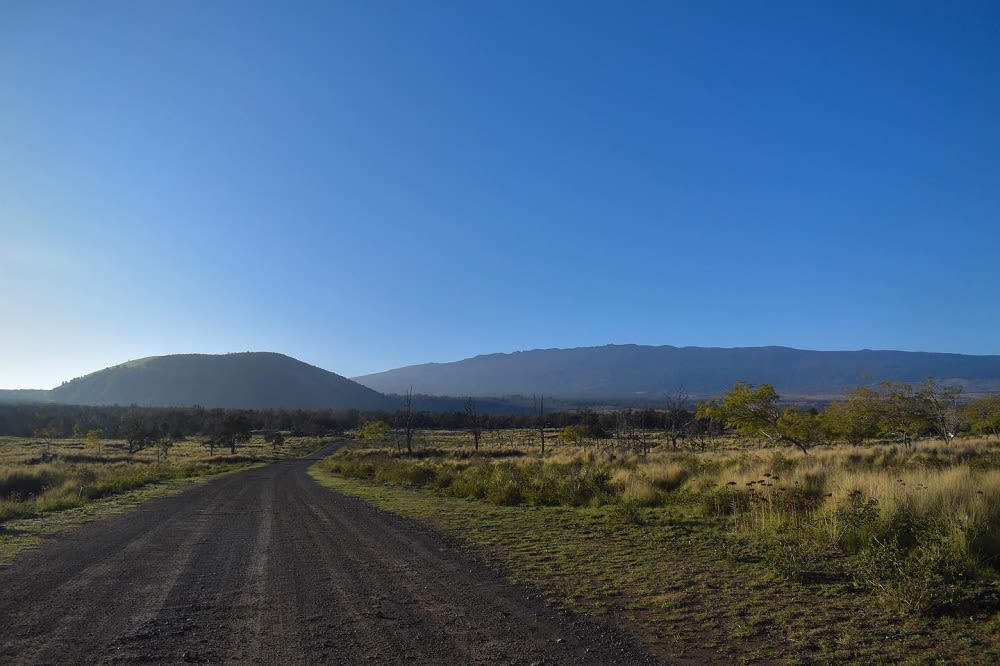 Photo courtesy of Pu'u Wa'awa'a Ahupua'a

Located within the Pu'u Wa'awa'a Forest Reserve along Mamalahoa Hwy, this trail's peak has a spectacular view of the Kona Coast, Mauna Kea, Mauna Loa, and Hualālai. Like Pu'u Ku'ili, it's an ancient cinder cone with a long history. Pu'u Wa'awa'a Ahupua'a's in particular is 100,000 years old!

The trails along Pu'u Wa'awa'a Ahupua'a are mostly the work of volunteers and it doesn't receive any official state maintenance so be careful while exploring. Despite being in plain view of the public, it feels like a natural preserve and contains a wealth of endemic and endangered plants, animals, and insects.

Although Pu'u Wa'awa'a is the signature landmark of the area, this region has a number of breathtaking trails. It's a great place to go for a hike over and over again without getting bored of taking the same path or having to sacrifice expansive island views.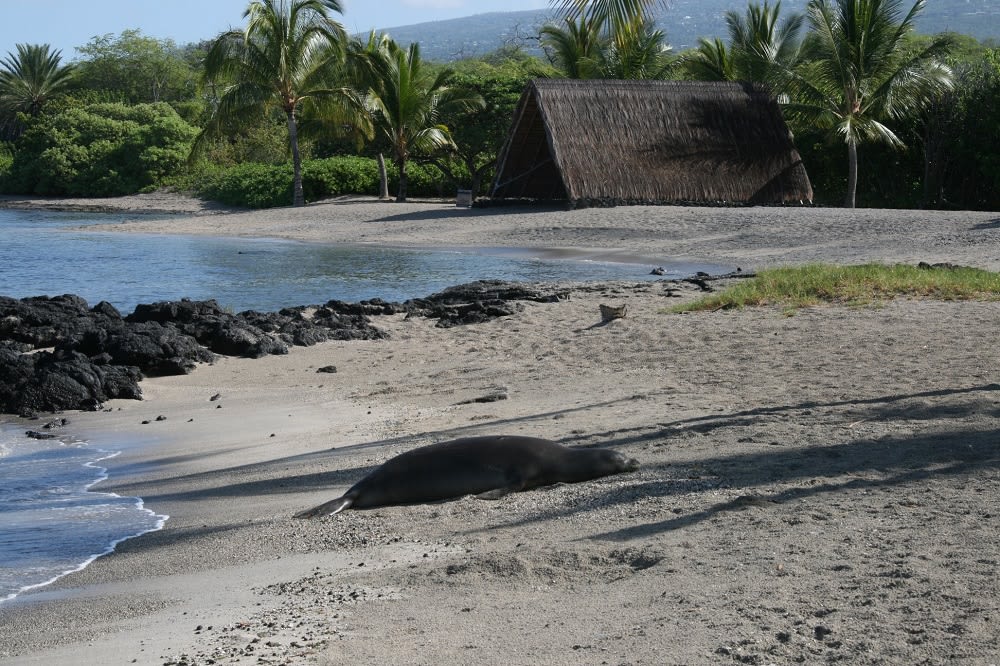 Photo courtesy of Kaloko-Honokōhau National Historical Park

Covering two ancient ahupua'a, otherwise known as land subdivisions, Kaloko-Honokōhau National Historical Park is a stunning place to hike. The park remained largely undeveloped until recently, when a Visitor Center, several restrooms, and trail markers were incorporated into its landscape.

Few of the island's parks contain as much ancient Hawaiian culture as Kaloko-Honokōhau. If you're looking for a hiking trail where you can fully immerse yourself in Hawaiian culture—this is it! Hikers along this beautiful path enjoy authentic petroglyph fields, fishponds, rock art, and temple ruins. Visitors often say that the freshwater-fed Queen's bath surrounded by mysterious mounds is what took their breath away.

Although the trail described above covers the entire park in a large loop, you could access locations individually by taking shorter hikes. The path is largely unshaded amidst dark volcanic rock so if you choose to take the three-mile loop around the coastline, make sure to bring plenty of water and wear closed-toe shoes.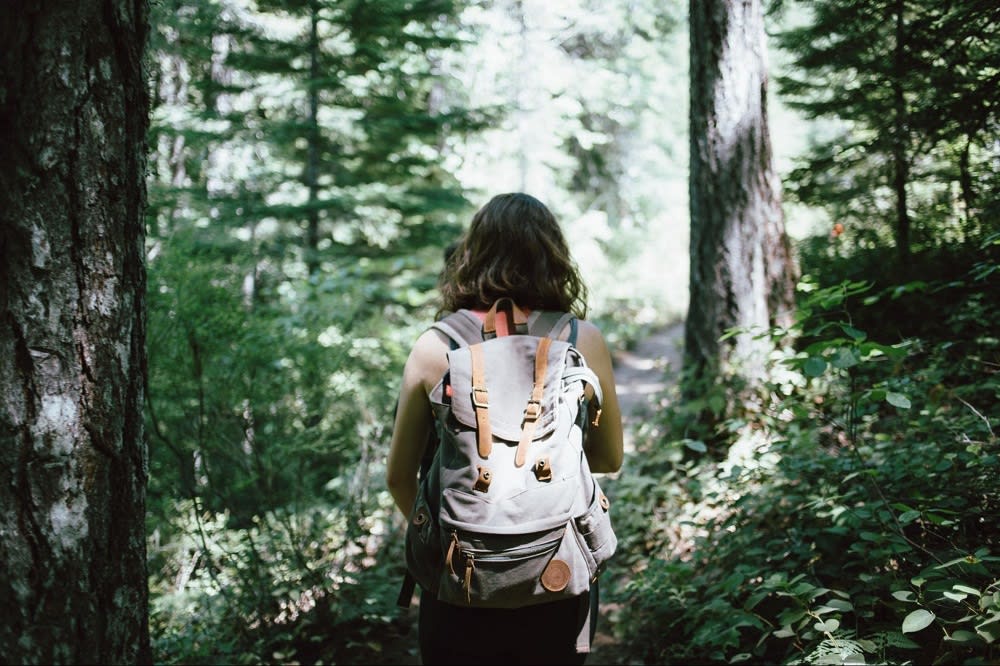 Set on the slopes of the Hualalai volcano, the Makaula O'oma trail is heavily shaded and cooler than most hikes on the island. At a 3000' point of elevation, it's an excellent respite from the usual heat on the coast. The trail makes up a small portion of the Honua'ula Forest Reserve and offers access to lush and beautiful ʻōhiʻa and hāpuʻu tree fern forest.

Hikers say Makaula O'oma feels more like a hike through a rainforest than a cinder cone. Trails on the western side of the Big Island aren't as cool, nor do they have the abundant forestry offered by Makaula O'oma. There are two separate loops you can take through Makāula 'O'oma, both moderate in difficulty.
Abundant wildlife and sheer sea cliffs distinguish Kealakekua Bay from other historical parks on the island. The word Kealakekua means "the pathway of the god," and is ironically the place where famed sea explorer Captain James Cook met his death. Cook was known for making the first European contact with Hawaii in 1778. Polynesians arrived in Hawaii much before, some 1,500 years ago, after navigating the ocean using the stars as a guide.

A place of both historical significance and natural beauty, Kealakekua Bay is home to several trails. The Cook Monument Trail is located within the park and is a moderately difficult trek beginning at 1,300 feet in elevation. Cook's landing at Kealakekua Bay marked the beginning of significant changes for the Hawaiian people and is considered one of the most historically significant trails in the entire state of Hawaii.

Along the trail, you'll find Puhina o Lono Heia, an eroded Hawaiian temple.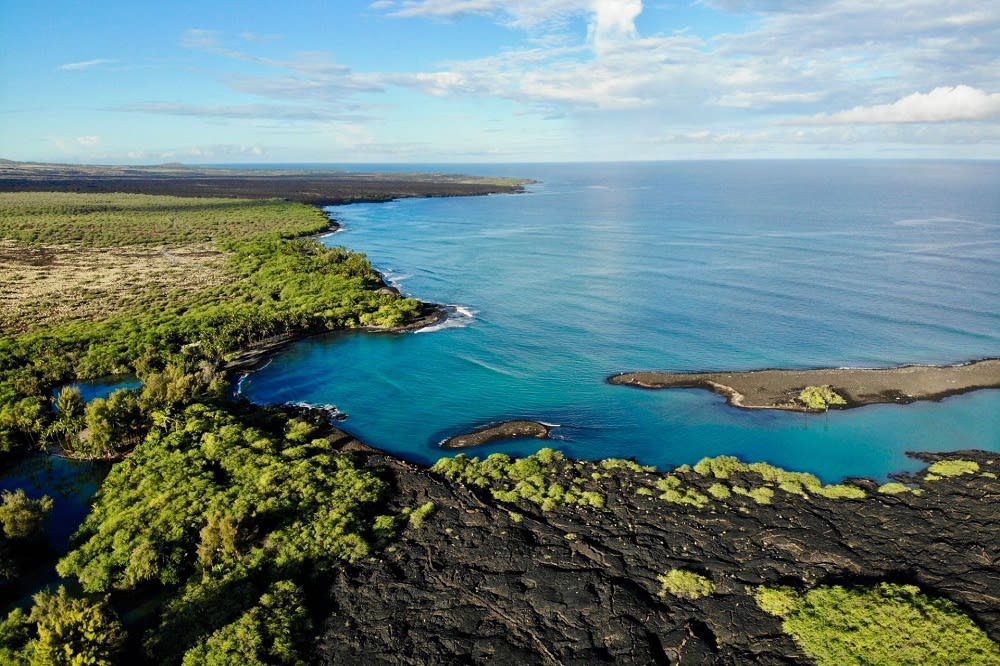 Photo courtesy of Kiholo Bay

A hike along Kīholo Bay allows visitors to enjoy a flooded lava tube, black sand beach, and an incredible brackish tide pool that was once an ancient fishpond. As one of the best places on the island to view sea turtles and a stunning area to view the sunset, the bay has been a bit overrun by tourists. Luckily conservationists have improved its appearance over the past few years and have been able to reverse some of the damage sustained by its ecosystem. Kīholo Bay is now a protected series of calm, turquoise tidepools inside a scenic bay.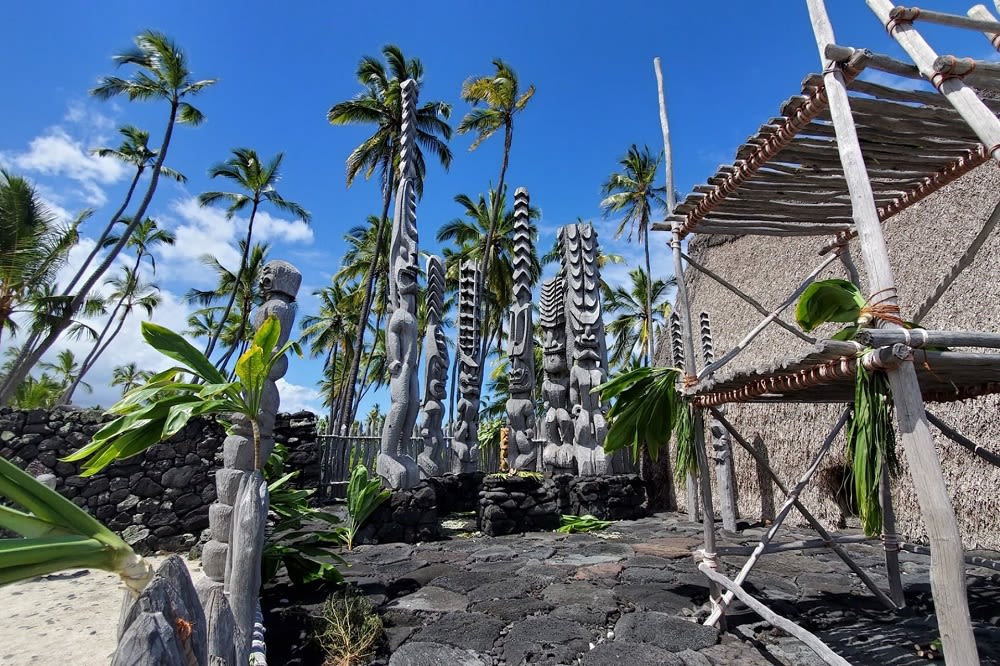 Photo courtesy of Pu'uhonua O Hōnaunau National Historic Park

Offering a series of easy, moderate, and difficult hikes, Pu'uhonua O Hōnaunau National Historic Park is the perfect location for just about any kind of hiker. As one of the more popular hiking areas in Kona, you'll likely run into other tourists and locals on its trails but there are enough paths that you won't feel overwhelmed by the interactions.
Also known as the King's Trail, Mamalahoa is home to some of the most well-preserved petroglyphs on the island. Ancient Hawaiians left behind nearly 30,000 carvings of animals and people in old pahoehoe lava flows. 3,000 of these carvings can be accessed by the public at the end of the trail.
Interested in Living in Kailua Kona?
If you're thinking about making Hawaii your permanent home, don't hesitate to contact the talented team at
Ellison Team Hawaii
. Our team brings together years of professional expertise and authentic Hawaii living to provide clients with a unique real estate experience.
Our
Kailua Kona properties
showcase the best the island has to offer. When buying or selling with Ellison Team Hawaii you're guaranteed more than just a sale. You'll receive an experience that's rooted in local knowledge and genuine appreciation for this wonderful island.