Did you know there isn't just one "Kailua" in the Hawaiian Islands? There are two! One is located on the island of Oahu and is referred to as Kailua. The other is on the "Big Island" of Hawaii, where it's known as Kailua-Kona. This Kailua is a beachfront town on the island's west coast.

Several communities feature gorgeous luxury properties in Kailua Kona, but many are standalone houses and townhomes. The current market has a median home price of $514,000, comparable to the previous year's median price of $525,000. Despite this slight drop, the area is a seller's market — there are more buyers than homes to choose from.

About 16,000 lucky souls call the 19 square-mile neighborhood of Kailua Kona home. Here, year-round temperatures hover around the 80-degree mark. This seaside town is positioned on the western slopes of the Hualālai volcano, and its many beaches offer visitors all the water sports imaginable, including world-class surfing, swimming, snorkeling, scuba diving, skimboarding, parasailing, and water skiing. Here is a rundown of the many popular beaches and what they offer in Kailua Kona.
Kamakahonu Beach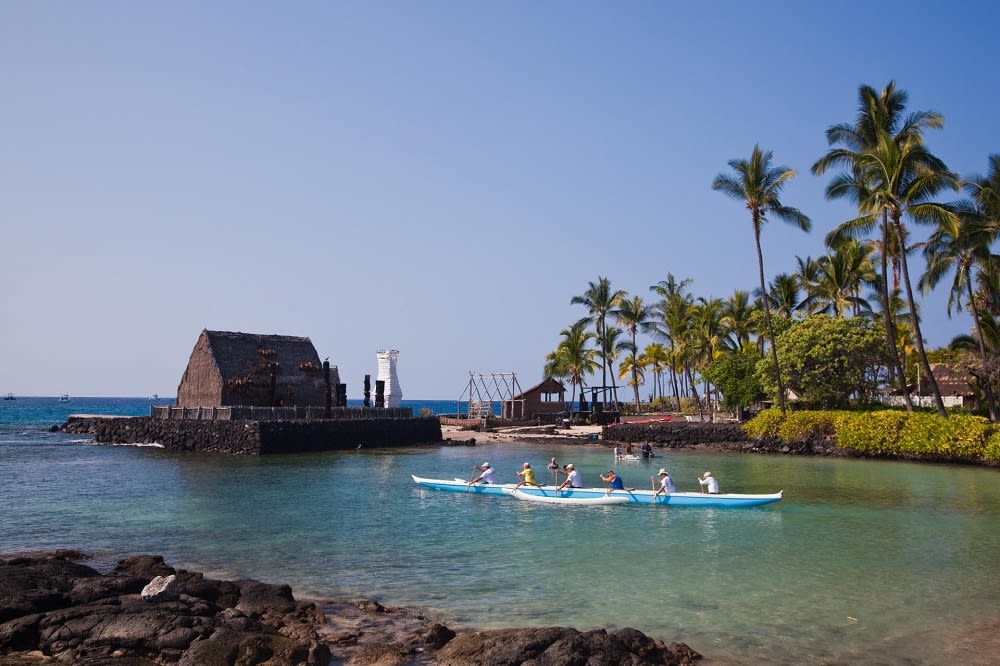 Photo Courtesy of Go Hawaii
Many beaches in the Hawaiian Islands can be rough, meaning waves and currents are best left to surfing experts and those with strong swimming skills. Kamakahonu Beach is a small, local beach set back in a protected cove that shields its visitors from dangerous conditions. This spot is ideal for beginners learning to snorkel, dive, and surf. Locals call this beach "King Cam Beach," and visitors searching for fun activities can rent kayaks, scuba equipment, and snorkeling gear. Interested parties can sign up for lessons as well.
White Sands Beach Park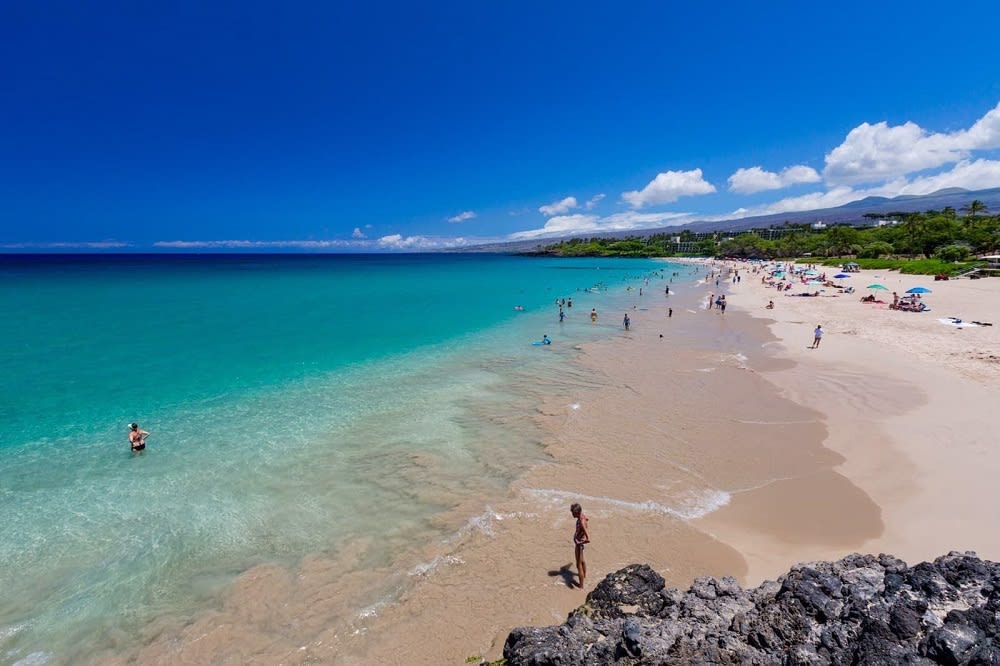 Photo Courtesy of Love Big Island
The White Sands Beach Park is known to owners of Kailua Kona homes as the "Disappearing Sands Beach" and the "Magic Sands Beach." Here, the sand disappears when the waves and surf become turbulent and sweep the sand away to reveal lava rocks. Conditions can be unpredictable, so the beach offers lifeguards for protection. When conditions are deemed safe, the beach is ideal for swimming, snorkeling, and SCUBA diving, but unless you're an expert in any of these pastimes, avoid them when the ocean is angry.
Kahalu'u Beach Park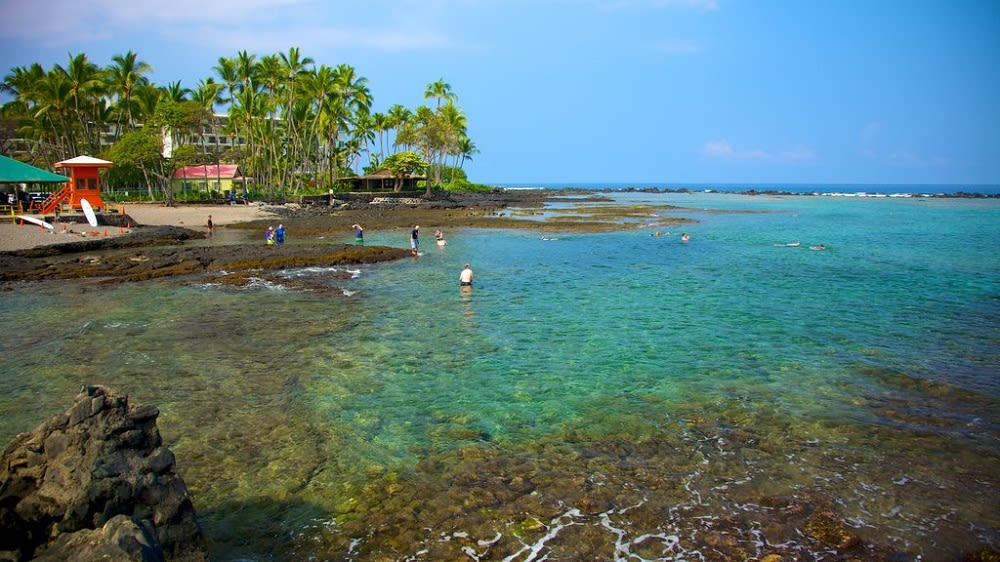 Photo Courtesy of Expedia
Just south of Kailua-Kona is Kahalu'u Beach Park. This beach offers visitors very calm waters, in part because of the coral reefs that surround it. It's known as the Kona coast's top beach for snorkeling. Because the waters are so calm, families with kids that own Kailua Kona homes can safely romp amidst the warm waters and admire the coral reefs. Visitors can indulge in stand-up paddleboarding, body-skimming, and good old wading in the serene waters. This beach also has lifeguards on duty.
Spencer Beach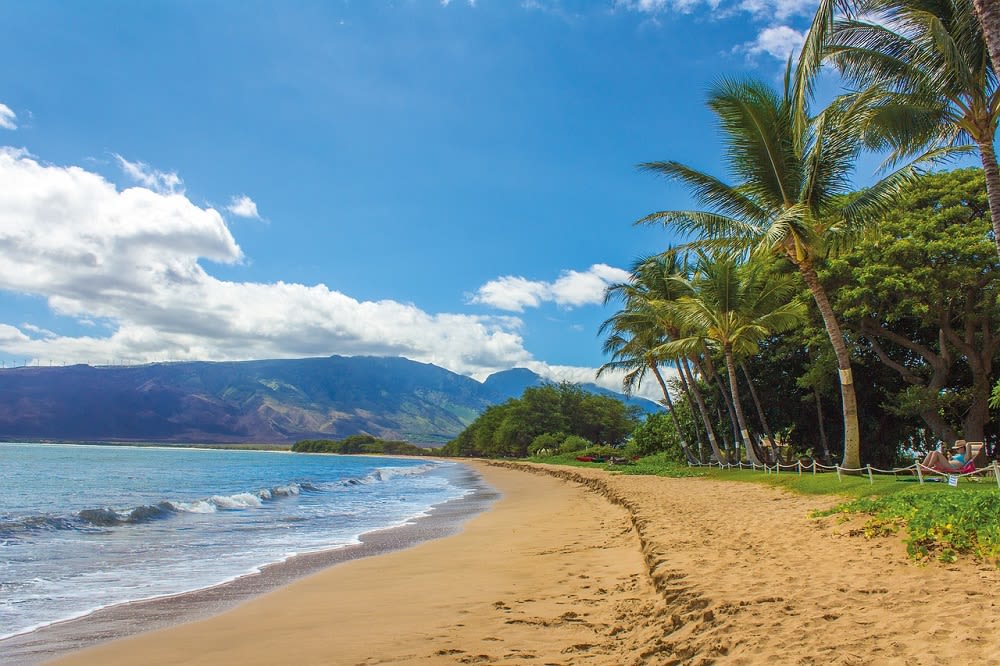 Photo Courtesy of I Love Hawaii Vacation
Another family-friendly beach is Spencer Beach. As with Kahalu'u Beach Park, this locale is awash with coral reefs that keep its waters calm. Snorkelers and scuba divers will find clear, warm water for their activities and shady, sandy areas to relax after their dives. Hikers will also benefit from a visit to the beach and its park as they can begin their journeys on the
Ala Kahakai National Historic Trail
. This trail is 175 miles in length, and even though it does not constitute one continuous trail, it can be accessed by a handful of points along its length. It is a "living trail" where hikers can connect with nature in all forms, including plant life, lava flow outcroppings, and other ecosystems.
Anaeho'omalu Beach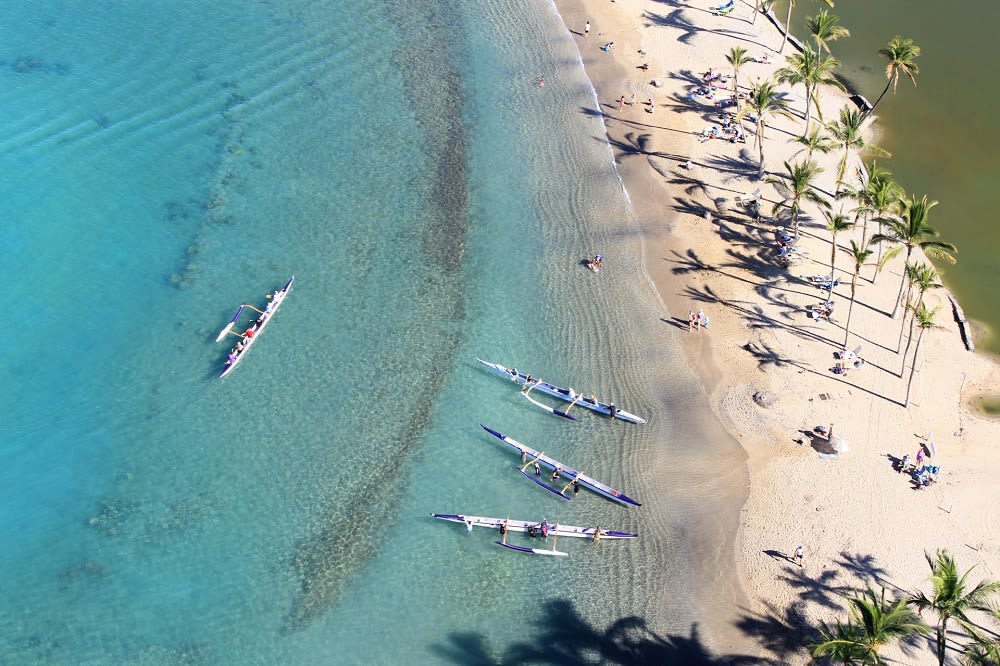 Photo Courtesy of Go Hawaii
Known by locals as "A-Bay," Anaeho'omalu Beach is ideal as a launchpad for sailing, sunbathing, and swimming. Owners of Kailua Kona properties and visitors can rent boogie boards and kayaks or just soak in the sun with a cold beverage at hand. Also available are catamaran cruises and guided tours of the area, a variety of SCUBA and snorkeling lessons, swim lessons, and surfing lessons.
If you're looking for a unique activity, check out the Kuualii Fishpond. Once abundant throughout the islands, these ponds were used by native Hawaiians to farm fish. This pond is one of the last remaining ones on the island chain. Hikers, nature enthusiasts, and history buffs will enjoy the 15-minute hike to the
Waikoloa Petroglyph Reserve
. Here, they'll witness more than 30,000 manmade, centuries-old carvings engraved into the lava rocks.
Makalawena Beach
Photo Courtesy of Travel Compositions
Makalawena Beach is located just north of Kailua Kona and is one of the less crowded beaches in Hawaii. Why? It's not a park and drop-your-umbrella-in-the-sand affair. If you want to access the beach, you'll have to go through about 20 minutes' worth of hiking across a rough-ish path of an old lava flow. Be prepared to pack your gear — masks, fins, water, sunblock, and more — into a backpack.


The beach is ideal for snorkeling enthusiasts, swimmers, surfers, and waders, but check conditions before visiting. There are no lifeguards on duty, and the area is remote. So remote that goats and chickens roam about freely and might run off with your picnic lunch if you're not careful! Also, because of the hike to and from, this beach isn't ideal for small children unless you know they can withstand the trek. You can either put them in strollers or carts or opt for other, more easily accessed beaches nearby.


As with any excursions, and regardless of your status — a resident, resident-to-be, or a visitor — make sure to bring adequate clothing and footwear for any changes in the weather, and alert friends and family of your itineraries.


The local agents on the
Ellison Team
will help you secure your dream home amongst Kailua Kona properties, but they can also help with suggestions for more recreational hotspots. Contact them today to start your real estate search in paradise!