Located on the Big Island, Kailua-Kona (or Kona, as it's more commonly called) boasts a variety of appealing qualities — from its unlimited access to outdoor recreation and sunny weather to its unbreakable sense of community. This resort town is nestled on the western slopes of the Hualalai volcano, right next to the ocean, and encompasses Kona, Holualoa, and Waikoloa.


What once started as a sleepy fishing village has evolved into a highly sought-after destination, mainly due to its central location and impeccable weather. Read on to discover this incredible town's magic that keeps tourists visiting and locals hopelessly in love.
1. Year-round tropical weather
It goes without saying that the weather in Kailua-Kona is one of the many perks you will experience. The climate is consistently warm and tropical, with ocean breezes in the morning, occasional showers in the afternoon, and breathtaking sunsets in the evening. The
temperature typically varies between 68 degrees and 87 degrees
, and rarely deviates outside of that range. Kona doesn't offer unpredictable temperature changes with the seasons, which means that you can count on basking in incredible weather year-round.
2. Gorgeous beaches
Sublime sunsets and salty ocean breezes are abundant on the Kailua-Kona coast. There are many
beaches
at the ready for you to sunbathe, surf, and build sandcastles with your family. For a fun-filled day of swimming and wading in tranquil waters, head to the white sand
Mahaiula Beach
. At the beach's south end, you can grill up some delicious eats on the barbecue with waves crashing as the backdrop. Quench your inner adventurer's thirst with a trip to
Kohanaiki Beach Park
. This beach is perfect for surfing, barbecues, and watching glorious sunsets. Spend some time bonding with family at
White Sands Beach Park
, where you can boogie board, play beach volleyball, and stop by the many shops, eateries, and beachside bars. In Kailua-Kona, you're sure to find anything from white sands to black, mineral-rich beaches.
3. Activities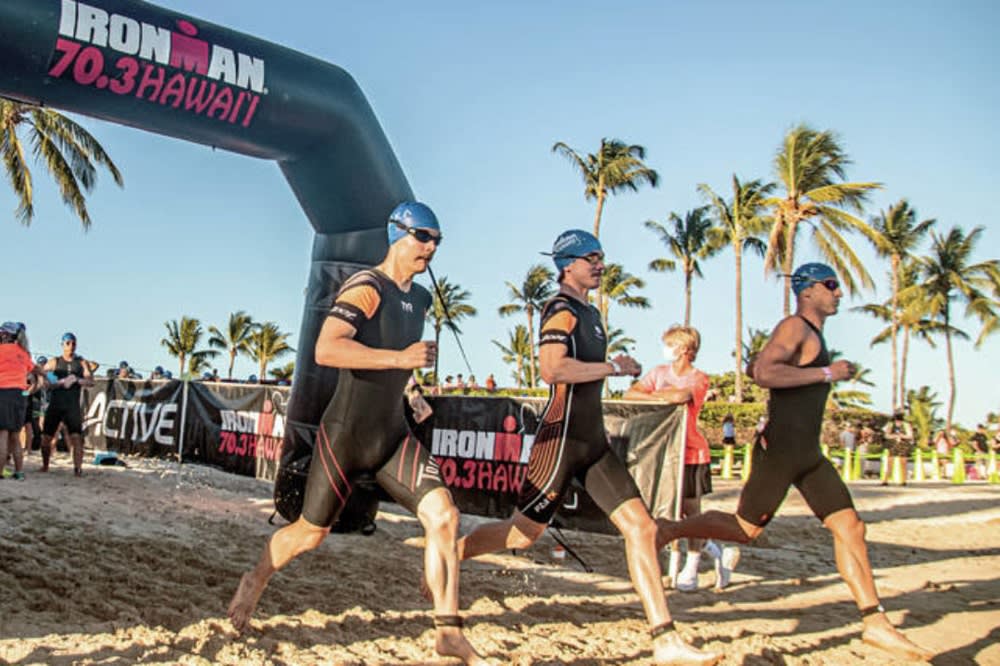 Photo Courtesy of West Hawaii Today
Although Kailua-Kona might be considered a small town, life here is far from boring. The town boasts a wide assortment of activities and festivals that take place throughout the year, perfect for adrenaline seekers or fitness junkies. One highly-anticipated event is the
Ironman Triathlon
, where incredible athletes test their resilience and physical, mental, and emotional strength. The world's best triathletes gather in Kailua-Kona each year to compete in this challenging competition as onlookers cheer them on. This demanding endurance test features a 2.4-mile swim in Kailua Bay, a 112-mile bicycle race along the Queen Ka'ahumanu Highway, and ends back in Kailua-Kona after a 26.2-mile run. If you need any motivation to get active, attending the Ironman Triathlon should do the trick.
Kailua-Kona is known for supporting an active lifestyle. Whether that's paddleboarding, racing canoes, or partaking in other exciting watersports, Kailua-Kona residents are always looking for fun ways to stay active and healthy. The list of recreation is seemingly endless and also includes snorkeling, surfing, sailing, kayaking, fishing, and so much more. There are plenty of tours suitable for adventure-seekers and leisure lovers. And for those wanting to participate in community events, the
Lavaman
and
Kona Five Ultra
are the perfect place to start. From the best kayaking spots to viewing captivating
manta rays
and
whales
, there's always something exciting to do or see on the Big Island.
4. Community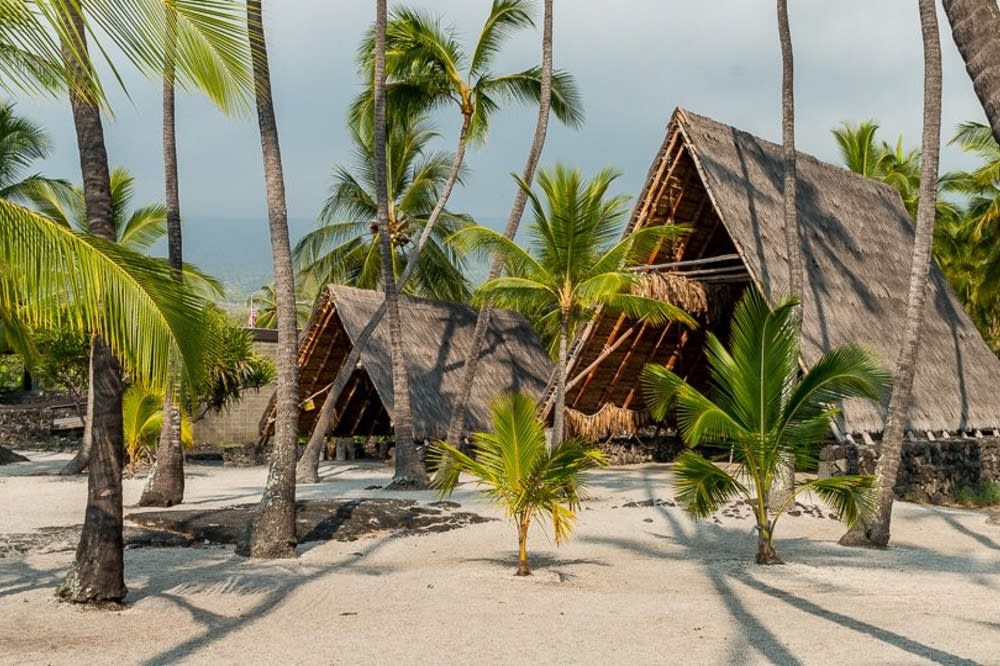 Historic Kailua Village, Photo courtesy of Big Island Guide
Kailua-Kona is a tight-knit community where neighbors are welcoming and making lasting friendships is a breeze. Here locals lead active lives, taking full advantage of the breathtaking landscape that envelops them with friends and family. In addition, people often attend local events and festivals, making it easy to get to know their neighbors and share laughs and good times. When looking to socialize, folks head to the
Historic Kailua Village
to check out fantastic art galleries and music venues. Excellent shopping, dining, and opportunities to learn about Hawaii's rich culture are all within reach in the Village.
Another fantastic way to discover the beauty and intricate cultural tapestry that Kailua-Kona beholds is by attending the
Merrie Monarch Festival
. This week-long cultural event is a can't-miss celebration held in Hilo, Hawaii. The festival is a domestic non-profit organization that features an in-depth look into Hawaiian culture and showcases a premier hula competition. From an invitational art fair to a Hawaiian cultural parade, you must add this festival to your calendar.
5. Local eats & coffee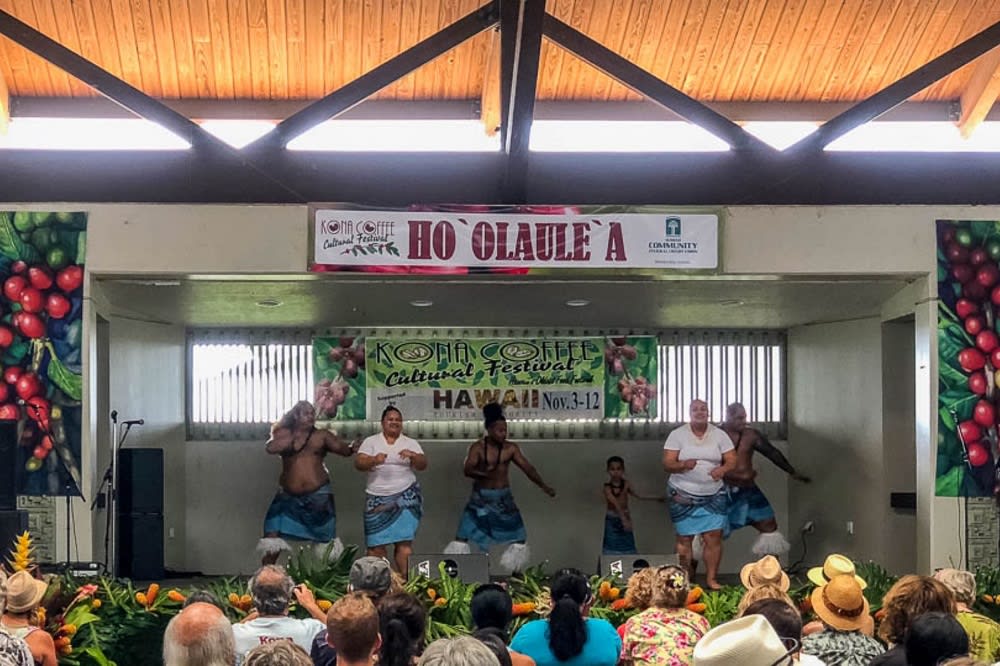 Photo Courtesy of Big Island Guide
Kona's exceptional coffee is grown in a distinct island microclimate that has been nurtured by generation after generation of skilled coffee farmers. While you can certainly enjoy a smooth and aromatic cup of this phenomenal coffee throughout the region, the best way to sample this joe is by visiting the
Kona Coffee Cultural Festival
. This longest-running Hawaiian celebration features nearly 20 events that span four days, including farm tours, barista training, a recipe contest, coffee-themed art exhibitions, a community festival, and a high-stakes cupping competition. The annual Kona coffee harvest is vitally important to sustaining Kailua-Kona's agricultural community and continues to be a beloved and integral part of Hawaiian culture.
The fine people of Kailua-Kona are extremely connected to the land and the food that it provides. Fish, vegetables, fruit, and spices are all grown in peoples' yards and traded between neighbors. The food culture is all about sharing, nearly daily. It's common to be invited to neighborhood feasts where friends, families, and friends-to-be gather to share locally-grown and caught fare. On a night when you don't wish to share, there are plenty of restaurants throughout the area to satisfy your craving for delectable, fresh cuisine.
6. Abundant nature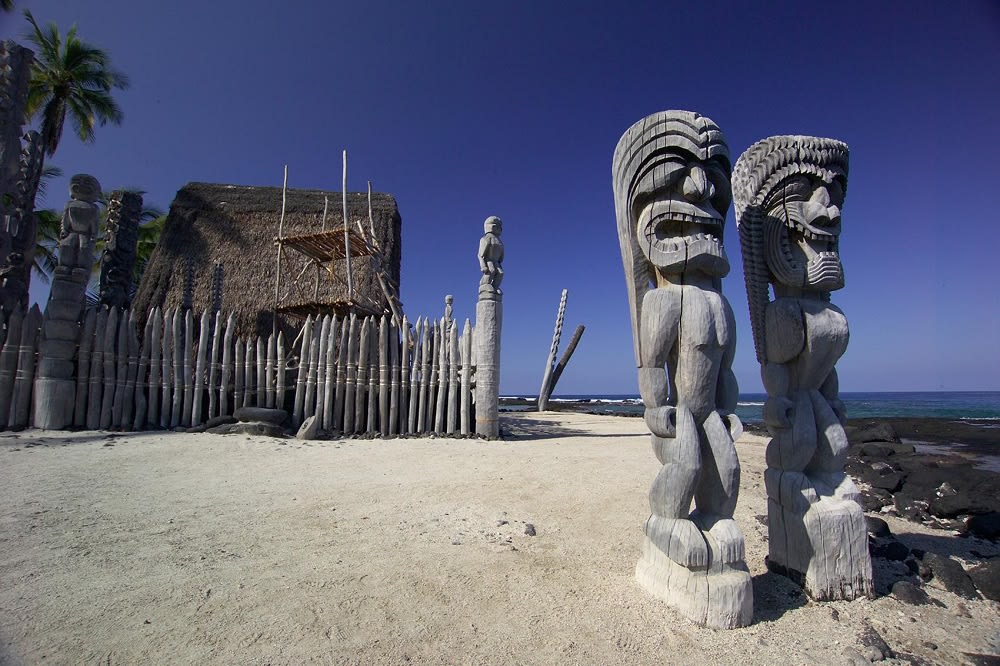 Photo Courtesy of Go Hawaii
There's nothing better than spending time outdoors and connecting with nature. Thankfully, Kailua-Kona offers ample opportunities to do just that. Make plans to visit
Pu'uhonua o Honaunau
, which is located just south of the town. This 180-acre national historic park was once the Place of Refuge and is one of the most visited sites on the island. Allow at least an hour and a half to see Pu'uhonua, the Royal Grounds, and the visitor's center, where you can learn more about the fascinating history of the area. Plan to take some more time if you want to hike the 1871 trail, as it stretches over two miles. Whether you yearn to hike, bike, or trail run, Kailua-Kona has some incredible
trails
to explore.
7. Rich history
Although Kailua-Kona is a resort community, it was once
home to the Hawaiian king
Kamehameha I. The king made the area his capital in the early 19th century after uniting the Hawaiian Islands as one kingdom. Kamakahonu, at the north end of Kailua Bay, is the site of the historic home and council area of the king. He lived and ruled from Kailua-Kona until his passing in 1819. In the mid-19th century, the capital was moved to Honolulu, and Kailua-Kona returned to being primarily a fishing village.
If you want to immerse yourself more into the fascinating history of early Hawaii, you can do so at
Hulihee Palace
. Constructed in 1837, this palace was once the summer residence of the Kings' who succeeded Kamehameha I and now serves as a museum. Today, the town is known for its thriving big-game fishing industry and other recreational activities involving the area's beaches and adjacent waters.
Hawaii has a remarkable history and mythology. The way people care for one another is something you simply cannot experience elsewhere. Cherishing and looking after one another has long been the mainland way of life. In Hawaii, everyone cares for each other deeply and Ohana (family) encompasses all.


Have you always dreamt of living the island life? Are you prepared to call Kailua-Kona home? Contact
Ellison Team Hawaii
today to find a stunning Kailua-Kona home. Their team members are experts in Kailua-Kona real estate and are happy to walk you through each step of the homebuying process. With years of experience in selling Kailua-Kona properties,
Ellison Team Hawaii
will help you find the perfect island home.